The History of Miami Shores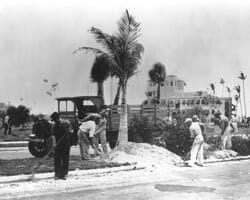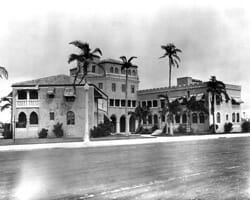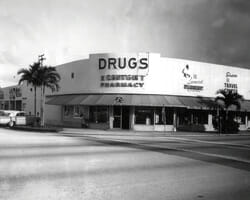 After the centuries-long Paleo-Indian and early Spanish explorer eras, the earliest "pioneer" settlers to come to what would become our village, the Sturtevants, Barnotts, Potters, Sears, Woods, and Hunts are thought to be our first inhabitants. These early homesteaders were instrumental in founding our area, which they christened Biscayne in the early 1870's.
William H. Gleason and William H. Hunt moved from an area now known to us as downtown Miami, moving the Miami Post office with them and renaming it the Biscayne Post Office. Since the Dade County government was often where Gleason was Biscayne was the titular county seat. However within ten years, most of the early inhabitants were gone and the post office closed in 1888.
Activity renewed in 1892 when the first road in Dade County, from Lantana to Lemon City, was built, and it went through Biscayne, and a post office returned. In addition, Mr. Gleason and Mr. Hunt had moved the county seat back from Juno to Biscayne.
The earliest types of commerce here included a starch mill, tomato packing plant, saw mill, a pineapple, alligator pear (avocado) and mango plantation and a grapefruit grove. Later a railroad depot, first named "Biscayne" and then changed to Miami Shores in 1932, as well as a school were built. In the 1920's, while the greater area was known as Miami Shores, it would be in early 1932 that the Village as we know it today was created by an act of the Florida legislature, and there is a historical landmark located at NE 96th Street and the bay.
The two earliest significant landowners were Major Hugh Gordon who held land bordering the bay, and T.V. Moore whose holdings, known as the T. V. Moore Farm, extended from the Little River Canal all the way into the middle of today's North Miami. In 1922, Dayton, Ohio druggist Lee T. Cooper purchased some of Moore's lands, renaming it Bay View Estates, and then El Portal. Then in 1924, the Shoreland Company, entered the picture, buying up much, if not most, of the acreage and renaming it Miami Shores, "America's Mediterranean".
Hugh M. Anderson was Shoreland's President, and his partner in the project was his cousin, Ellen Spears Harris. The company had grand plans for an Italian inspired development with inland waterways and a magnificent mid-bay causeway, which was to terminate on what was to be called "Miami Shores Island" (Partially completed and now known as Indian Creek Village)! By 1926 it was reported that fifty homes were under construction. The beautiful home constructed for Mr. Anderson is on the southwest corner of NE 4th Avenue and NE 94th Street, while Mrs. Harris home was built on the northwest corner of NE 3rd Avenue and 96th Street. Unfortunately, on September 17th and 18th, 1926, a devastating hurricane tore through our fledgling village, and that as well as other factors resulted in Shoreland's bankruptcy the following year.
In 1928, a new corporation controlled by Bessemer Properties and the Phipps family of New York took over the holdings, and led by Roy H. Hawkins, moved forward with development. In 1931, Hawkins applied for a charter, and on January 2, 1932, the Florida state legislature and village council made us an official municipality. Frank O. Pruitt became our first mayor.
Growth was sporadic in the thirties because of the Great Depression, and ground to a virtual halt during World War II. However, construction exploded thereafter, and an engaging mix of residential architectural styles developed.
Miami Shores became largely complete by the sixties, and important community institutions were constructed during the heyday that marked this decade and the seventies. Almost all important community structures were completed in this post war period, including Village Hall, the Country Club, the Community Center, and Brockway Library, today one of only four municipal libraries in Miami-Dade County, all others being county managed and operated. By 1968 population had reached 9,000.
By the 1980's, commercial development on Biscayne Boulevard and in Aventura would affect our downtown business district, and it was truly only recently that twenty five years of challenging times seemed to end for our downtown, with the reconstruction of NE 2nd Avenue and a renewed desire amongst community leaders to bring "Village Place" back to life.
Today, Miami Shores has over 10,000 people, and is a modern residential community first and foremost, with well-maintained homes and lawns, an active civic life, and a responsive local government and safety program. Today our village calls itself the "Village Beautiful". The community came together about a decade ago to construct Doctors Charter School, and both it and Miami Shores Elementary School are both "A" rated schools.
To learn more on our wonderful and colorful past, you are urged to visit, by appointment, the Miami Shores Archives at Brockway Memorial Library or to read ""Boulevard of Dreams: A Pictorial History of El Portal, Biscayne Park, Miami Shores and North Miami," by our village historian, Barry University Professor Seth H. Bramson.